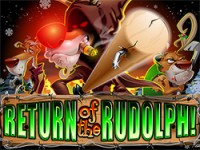 Return of the Rudolph is a new Christmas themed RTG video slot for the 2010 holiday season. It features 50 paylines, wild symbols that are stacked on the middle reel, and several bonus features. When the middle reel is stacked full of wilds, all wins are multiplied by three.
This is the third slot in what appears to be a series of Rudolph vs Santa slots. It started with Rudolph's Revenge, then Santa Strikes back (both of which are names of the bonus features in this slot), and now Return of the Rudolph. All three slots are quite different from each other apart from the theme.
Rudolph is back again, and this time his baseball bat has a nail in it! lol
One of three bonus features can be triggered when 3 or 4 scattered "Thugs" symbols land on the reels during a spin. Select one of the symbols to reveal your bonus round. Hit 5 scatters to win the progressive jackpot.
If you find the Rudolph's Rampage feature, you are taken to Santa's toy factory where three elves are hiding. Select from 8 different spots to find all the elves, you are awarded free spins based on the amount of spots you selected when looking for the elves. Find all three elves in three picks to get 50 free spins, and then each selection after awards less spins – 25 spins for 4 picks, then 20, 15, 10, and finally 5 free spins if the last elf is found in the last spot.
If an elf is found holding a red present, the scattered Thugs act as wilds additional to the Rudolph symbols. If an elf is found holding a blue present, all wins are multiplied by 4 during free spins, otherwise all spins are doubled. If an elf is found holding a green present, Rudolph fills the middle reel during all free spins. All three presents can be found during the same feature, and hitting 3 or 4 scattered Thugs during free spins adds and additional 7 spins.
The Santa Strikes Back feature initially awards 7 free spins with no multiplier. If a Santa, Rudolph, or Thugs symbol lands on a reel during a spin, the star at the top of the reel is lit up. The stars remain lit until all 5 are lit or the feature ends. When all 5 stars are lit up, free spins are reset to 7 and a multiplier is added. This can happen up to 9 times to finish with 7 free spins at a 10x multiplier.
If you get the Rudolph's Revenge feature, you are awarded 7 free spins with all wins being multiplied by 2 plus the number of Rudolph symbols on the screen. If 4 scattered Thugs symbols triggered the feature, the Thugs will act as additional Rudolph symbols during the free spins.
Obviously no shortage of entertainment on this slot, and I still haven't been able to see every part of every feature, I haven't found all the different presents yet that the elves can hold for example. Return of the Rudolph seems to be a great slot and the wilds have been landing quite often for me. See the screenshots below for paytable information.
Play Return of the Rudolph today at these trusted RTG casinos.