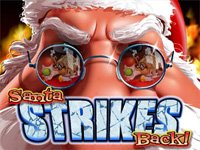 Santa Strikes Back is a Christmas themed slot found at RTG online casinos, and is the sequel to Rudolph's Revenge, another fun RTG slot. This slot features 25 paylines, a wild symbol, two different free spins features, and a progressive jackpot that is won by lining up 5 wilds.
It isn't known what the scatter symbol is until two or more land on the reels. Santa and Rudolph battle within each symbol until one of them is victorious. If three or more scatter symbols have the same result, a bonus feature will be triggered.
If Santa wins in three symbols, the Santa Strikes Back feature is triggered, and if Rudolph is victorious in three symbols, the Rudolph's Revenge feature is triggered.
The Santa Strikes Back Feature starts at 7 free spins with no multiplier. During the feature, Santa and Rudolph symbols have a candy cane symbol on them them. When a candy cane appears on a reel, the star at the top is lit up. Light all 5 stars to reset the number of free spins to 7 and increase the multiplier by 1. The stars remain lit until a reset is triggered or the feature ends, and the reset can happen up to 19 times to finish with 7 free spins with a 20x multiplier! Scatters are not present during this feature.
The Rudolph's Revenge Feature awards 7 free spins with a multiplier of 2 plus the number of wild Santa symbols appearing on the reels at the end of each spin. Rudolph will win all the battles when scatters land, so three scatters will retrigger the feature no matter what.
I really enjoy these Santa vs Rudolph slots, they are very entertaining, great graphics, and give decent returns too. See the screenshots below for paytable information.
Play Santa Strikes Back today at any of these RTG online casinos.