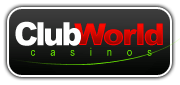 The Club World group owns and operates 6 online casinos, although it could be considered more since the Club World Casino has a few different versions based on a player's location. Where you are in the world determines the casino that you play at. Club World Casinos are currently the only RTG casinos that I play at. They offer great bonuses every week, the customer service via live chat is excellent, and payouts are taken care of very quickly (except on weekends).
The geographically targeted online casinos are named Club USA Casino for Americans, Club UK Casino for residents of the UK, Club Euro Casino for countries that use the Euro for currency, and recently Club SA Casino for South Africa. If you are anywhere else in the world, like here in Canada, you will play at the Club World Casino.
Below is a list of all the RTG casinos owned by the Club World group, along with the sign-up bonus information for each one. Be sure to read the terms and conditions for each bonus before deciding to claim it.

Share this information about Club World with your friends!