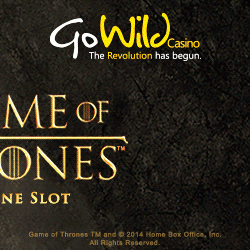 Winter is coming! Actually winter is in full swing where I live in Canada, but I don't care because I can stay home and play this! The Game of Thrones slot was just released to Microgaming Casinos on December 1st, 2014. It seems they listened to their customers for this big name release, and made two different versions of the slot, one with 15 paylines and another with 243 ways to win. I have seen quite a few complaints on the various gambling forums out there about the recent Microgaming releases all being 243-way slots, and some people just don't like that style of slot.
While my opinion of the show varies from episode to episode, this new slot seems like a good one and the Game of Thrones theme from the music to the symbols was all done well. In the short time I've had to play it, since it was just released this morning, it felt very similar to the TV show – whenever I would get two scatters to land, it seems the third one (my favorite) kept getting killed off before being able to do any good. ;)
The Game of Thrones slot features stacked wilds on both the 15-line and 243-way versions, in fact there doesn't appear to be any difference between the two other than the number of paylines, and I'm sure the payouts are set up differently because of that. I didn't really look at the differences between the two paytables. I like 243-way slots, so that's what I'll be focusing on here.
The Free Spins Feature is triggered when three scatters land on the reels during the same spin. There are four different types of free spins that you can choose from, named after four of the main families from the show – Baratheon, Lannister, Stark, and Targaryan.
Play Game of Thrones at All Slots Casino!
The Baratheon free spin feature gives you 8 free spins with a 5x multiplier, and the Baratheon family crest symbol is stacked 3 high during those free spins. The Lannister feature gives you 10 free spins with a 4x multiplier, and the Lannister family crest is stacked 4 high.
The Stark feature gives you 14 free spins with a 3x multiplier, and the Stark family crest is stacked 5 high. Last but not least, the Targaryan feature gives you 18 free spins with a 2x multiplier and their family crest symbol is stacked 6 high.
The way those features are set up, it basically evens out the possibilities, so I can't say that any one would be a better choice over another. When I'm faced with choices like that, I tend to go for the higher multiplier option and hope for a nice hit in the fewer free spins.
You can find the Game of Thrones slot at any of these trusted Microgaming Casinos, along with the multi-software casinos that have Microgaming games. With a large range of betting options, 4 free spin features, stacked wilds, and having the choice of playing the same slot as a 243-way or 15-line slot, the Game of Thrones slot is bound to please most people.