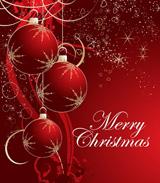 We at The Canadian Gambler would like to wish you and yours a very Merry Christmas and a Happy New Year.
I hope this year has treated you well. If not, I hope the new year will be better. For me the year had highs and lows, but the lows definitely outweighed the highs, so here's to hoping that 2011 will be much better.
There were also some highs and lows when it comes to online casinos in 2010, and of course the lows get all the press.
This year saw many Rival casinos showing us the meaning of Rogue, and many players went unpaid. Some that were more vocal managed to get some money but they were slow-payed and given the run-around. I'm glad we Canadians are not allowed to play at Rival powered casinos.
Betfair recently made the headlines, and that issue is still ongoing with many players considering (or already taking) legal action against Betfair. It was quite the bonus blunder, many people are very upset with them and they have every reason to be. Read about it here: Betfair not so Fair
Those were a couple of the major lows from this year at online casinos, but there were many highs that you just don't hear enough about. Many online casinos had great track records for the year, with fast payouts, good customer service, and just running great casinos. All of the online casinos that I played at (many of which are found on this site) and managed to cash out, promptly paid my winnings with no problems at all.
So again, Merry Christmas, and I hope 2011 brings you good luck and big wins!!
-The Canadian Gambler