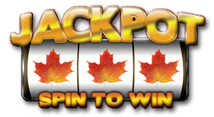 Welcome to the Online Slot Tournaments page of The Canadian Gambler. Here you will find tons of current information on various online slot tournaments found at the online casinos featured on this website.
Freeroll slot tournaments are obviously the most popular, and there are many being run all the time. The thing I don't really like about them is they usually have too many continue and re-buy options that cost money. Paid slot tournaments usually have better options, like the one-shot which is my favorite.
Most slot tournaments are played until time runs out and prizes are given away shortly after. Some tournaments with very large prizes have qualifiers and even elimination rounds, but those are rarely seen anymore. The final for the Grand Slam of Slots II for example can only be entered by placing near the top of the leader board or winning one of the many qualifier tournaments, which are currently being held at several MicroGaming online casinos.
Many online casinos run slot tournaments daily, weekly, monthly, etc. They are normally easy to find, and are usually on the same page that you select the type of games you want to play in the casino or games lobby.
Stay tuned to this Online Slot Tournaments section of the website for the latest updates and slot tournament news.