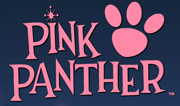 Pink Panther is a very unique slot by Playtech. It features 40 paylines, a wild symbol, progressive jackpots, and many randomly triggered bonus features.
The main bonus feature, which triggers more often than the others, is the Pink Pow feature. The Pink Panther, who is always standing beside the reels during play, pushes down on a detonator that blows up 2 – 6 of the symbols on the reels, and turns them wild. I've had quite a few nice hits from this feature.
My favorite feature is the Crack the Pink Code Bonus, where you are taken to a screen with 6 safes. Keep opening them until you find one with dynamite. You can be awarded free spins, multipliers, and/or an expanding wild on the middle reel. When you find the dynamite you are awarded another prize before the free spins start.
The Color Pink Bonus is another randomly triggered bonus round. The Pink Panther and the little man paint a wall of numbers, one paints pink and the other paints blue. The pink numbers add together to equal your bet multiplier that determines your prize. If you don't like the result, you are given two more repaints to try for more.
Another feature is The Wheel of Pink Bonus, where the Pink Panther spins two wheels. The wheel on the outside represents the bet multiplier, and the inner wheel determines whether you will collect your prize or spin again. Each respin adds the multiplier to the total bet multiplier, determining your prize amount once collect is hit on a spin.
The Pink Trail Bonus has Inspector Clouseau following the Pink Panther's footsteps for 4 rounds, looking for a stolen diamond. Each footstep adds a certain number to the total bet multiplier, and the number of steps taken each round is random. At the end of each round you have the choice to continue or collect your prize. If you continue, you run the risk of falling into a trap and halving the total multiplier. If you continue through all four rounds successfully, you find the stolen diamond and it doubles your total multiplier for a huge win.
The final bonus that is randomly triggered features two progressive jackpots. Like the other radom features, this one can be triggered by any spin with any bet size, but for this one a higher bet increases your chances of it being triggered. You are taken to a screen with 12 doors, open them to reveal characters. Finding 5 Pink Panthers wins the Major Pink Jackpot, 4 Inspector Clouseau characters wins the Minor Pink Jackpot, and 3 little man characters wins the consolation prize. See the screenshot below for an example.
Play Pink Panther today at any of these great Playtech casinos.
Screenshots