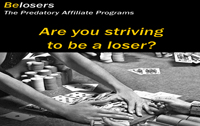 Due to recent events, it has been decided by many in the online gambling community to issue a warning to players to stay away from Bwin.com, and affiliates to stay away from their BeWinners affiliate program.
On Sept. 14th, 2010, Bwin announced their so-called "new and improved" affiliate program – BeWinners – with several new and shocking Terms and Conditions. These terms were blatantly obvious in their intent to steal money from the hard working affiliates who have been the main source of Bwin's success over the years.
Why warn players to stay away and not just affiliates? Simply because if Bwin is willing to steal from its business partners, it is not a safe place for anyone to play at. This has been seen many times in the past, if affiliates are treated poorly, players are often treated worse. Most affiliates care about how the players are treated at the gambling establishments they promote, which is why many of us have decided to issue this warning.
Bwin and BeWinners have been contacted many times since mid-September and refuse to budge on these terms. Both the casino and affiliate program are now considered rogue at Affiliate Guard Dog.
Visit Belosers.com to read more about this issue and see the new terms.