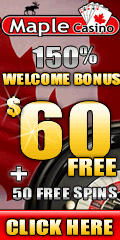 The Saskatoon Star Phoenix released a story earlier today (Nov. 5th, 2012) about a former Chief of the White Bear First Nation who is planning to open an online casino tomorrow, named the Northern Bear Casino. Bernie Shepherd plans on running this online casino from his office on the reserve which is about 150km southeast of Regina, and is doing so without permission from the federal or provincial government. At the time of the story, the provincial government had no comment other than the fact that they are monitoring the situation.
A few hours later, CBC News released a story stating that Donna Harpauer, the minister responsible for the Saskatchewan Liquor and Gaming Authority (SLGA), has said online casinos will not be allowed to be hosted in Saskatchewan. She apparently said this to reporters when they asked her about the Saskatoon Star Phoenix story.
This isn't the first time that Shepherd has opened a casino without permission from any level of government. In 1993 an RCMP SWAT team raided a casino on the White Bear reserve that was started by Shepherd, who was chief at the time, and other residents of the First Nation.
They were charged with operating a common gambling house. The charges against him and the others were dropped, and the incident led to the creation of the Saskatchewan Indian Gaming Authority (SIGA) which now has casinos in six communities in the province, including one at White Bear. Shepherd says he is opening the Northern Bear Casino without any involvement of the Federation of Saskatchewan Indian Nations (FSIN) or SIGA.
Running an online gambling company in Canada has always been illegal, but when the people running it are First Nations, things tend to get complicated. One side says it's illegal, the other side says it's within their treaty rights. Take the Kahnawake Gaming Commission (in Quebec) for example, they have been licensing, regulating, and hosting online gambling companies for over a decade. There have been questions about the legality, but no charges have ever been filed. The Kahnawake people have basically declared themselves as being a sovereign nation when it comes to Canadian laws they don't want to follow.
The federal and provincial governments in Canada have been relatively quiet when it comes to these issues, and rather than fight against them, they have been opening their own provincially run online casinos. BC and Quebec have their own online casinos, and Ontario was supposed to have one earlier this year but I haven't heard much about it. Saskatchewan has also been toying with the idea, but who knows when that would ever happen. Things tend to move slowly in this province.
It will be interesting to see how this all plays out, I will definitely be keeping a close eye on the news tomorrow and will keep this story up to date with anything that happens. Based on how past events have played out, could this be the start of many Canadian online casinos run by First Nations? Will the government finally decide what the rules are when it comes to online casinos being run by First Nations? Stay tuned to find out.

Update: The Star Phoenix just ran a follow-up story elaborating on what was said by the SLGA minister during her interview with reporters. She was quoted saying that the Northern Bear online casino is "probably" illegal, but didn't say whether or not any action would be taken. "Once I see it and what they're doing, we'll look at our options at that point in time," Harpauer said. "We'll have to get advisement, I'm sure, because there are legal issues."
CBC News said she "shut the door on the idea" making it sound like immediate action would be taken if the online casino opened. They were talking more about things said six months ago by Harpauer when the SLGA was considering launching a provincial online casino, than what she said about this situation today.
Update – Tuesday Nov. 6th: The Northern Bear Casino has launched and is accepting new players. The casino is part of the GEOBet Gambling Network which is operated by Golden Arrow Entertainment, based in the Tsuu Tina Nation (Redwood Meadows, Alberta, Canada). GEOBet.com was launched in September 2012 and the site offers an online casino, online poker, and sports betting. So apparently the Tsuu Tina Nation in Alberta has been offering online gambling to the world for a couple months already, and I never heard much at all about it. GEOBet is licensed in several jurisdictions including Malta, Curacao, and Kahnawake.
Northern Bear Casino appears to just be a simple skin of GEOBet, because when you visit the website, everything you click on takes you to a GEOBet page with just a bar across the top that says Northern Bear Casino. The slots are powered by Microgaming software, and only the instant play games are available, I don't see any option to download.
I don't really see the point of playing at this new Northern Bear Casino, you might as well just play at GEOBet since it looks like you are playing there anyway.
By the looks of things, these casinos will likely be here to stay, and there will probably be many more popping up in First Nations all over Canada.