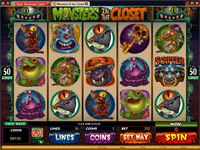 New slots are here! Four new online slots were released today at these trusted MicroGaming casinos, be one of the first to try them out!
The new slots released are Dolphin Coast, Monsters in the Closet, Steinfest, and Tiger's Eye (click the names to read more info on each slot).
I gave them a quick test run, and so far my favorites are Dolphin Coast and Tiger's Eye, they both gave me free spins in the short time that I played them. I landed a nice hit on Tiger's Eye during free spins, see the screenshot below, I was only betting 40 cents per spin but ended up winning $40 by the end of the free spins.
The other two slots just took my money, and I don't really like slots with two scatter symbols for different bonus games. It seems to add too many symbols to the mix and makes it tough to line things up or even just hit one of the bonuses, especially when there are only 9 paylines like on Steinfest. I will go back to play them some more, just wanted to give you my first impressions, though it looks like Steinfest will be another slot that I won't play very often.
Try these fun new slots and more at these great MicroGaming online casinos. I recommend playing Tiger's Eye first.
Screenshots