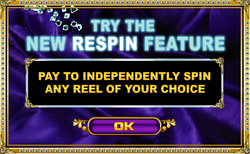 Two of the four new MicroGaming slots that were released yesterday, November 9th 2010, feature a new respin option. You can pay a certain amount to respin one reel at a time. The 5-reel slots with the new feature are Reel Gems and Retro Reels.
The cost of respinning a reel is determined by the odds of hitting big on that respin. If you see four high paying symbols lining up and want to respin a reel to try to line up five, it will cost several times your total bet. It's quite cheap to respin the last few reels to line things up starting from that end, but the cost jumps way up when trying to line up the fifth symbol.
I tried it out in practice mode just to see how it worked, and I had mixed results. I found that the best time to use the respin is on Reel Gems, a '243 ways-to-win' slot, when the wild symbols land on reels 2 and 4. You can respin the other reels to line up some very nice wins. Doing this I was able to increase my bankroll by quite a bit.
The worst I did was on Retro Reels when I was trying to line up 5 of the jackpot symbols. I got four to line up on reels 2-5, and then it cost $50 per respin on the first reel. I quickly lost all my money without hitting the jackpot.
So it's best not to try for the biggest wins possible, as it can be quite costly, but you could get lucky and hit it on the first respin. It all comes down to the risk you are willing to take.
Try this new feature and the four new slots at Golden Tiger Casino today!