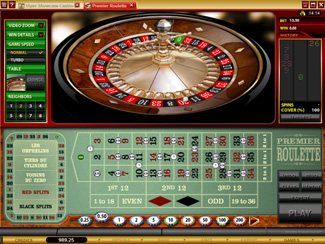 One of the most favoured games at any casino is Roulette. It offers players the chance of great returns on their wagers. Premier Roulette is leading the world of online gaming with a range of new features that can make your winnings even more significant and give you a higher edge on the game.
Some of the foremost features include the customization options, the 3D wheel zoom feature and the game speed options. With the customization feature, you can choose which table and background you prefer. You can choose your own or select one of the standardized designs to enjoy while you play. You can zoom in closely on the wheel with the 3D zoom feature and get a close look at the action. The other great feature is the speed option. Here you can play ultra fast with turbo mode or you can play at the standard speed.
You can vary between the two options and find which speed works best for you.
This table game is based on European Roulette, so the numbers range from 1-36 and there is only one zero. You can view your bet summary too, which is helpful if you like to work with odds and percentages. Bet ranges are from 1.00 to 200.00, another attractive feature as penny players and high rollers can enjoy endless and exciting options that are available in this graphically outstanding game. Play the odds and win great prizes when you spin the wheel to fortune with Premier Roulette.
Premier Roulette is due to be released on December 7th 2010 along with two new slots at 32Red Casino.