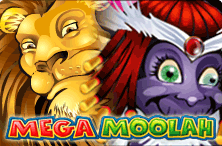 Casino Rewards, an online gaming company which manages more casinos than any other group online has another millionaire to brag about. They have made A.D., a new player in the world of online gaming, $5.2 million dollars richer with a single spin of the progressive jackpot slot game Mega Moolah.
This is the second millionaire to win the jackpot at a Casino Rewards managed online casino, which uses Microgaming as their platform, and this recent jackpot will go down in history as the biggest jackpot win since Casino Rewards opened their virtual doors a little over a decade ago.
In 2008 there was a winner on the very same slot machine that brought home $5 million dollars after a single spin of the reels so it seems Casino Rewards has the "it" machines when it comes to making millionaires.
In total, Casino Rewards offers 16 progressive slot machines to their players; all of which are also offered at other Microgaming powered online casinos. The greatest thing about this win is how it was won – a free bonus! That's right – the player used a free bonus they received when they registered their account. These free bonuses are offered at quite a few casinos from the brand and the fact that the player won $5,201,558.97 off of free cash it makes the win a whole lot sweeter, and to top it all off, it was only a 50 cent bet!
Casino Rewards has been a steady group in online gaming and continues to prove themselves worthy of players business. If you haven't already, check out the 32 Casino Rewards casinos offered here and maybe you'll spin your way into a life changing jackpot.