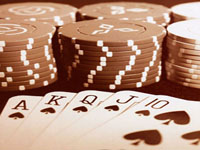 Even almost 8 months later, Black Friday, the huge online poker scandal that took place in April of this year, is still making headlines in the world of online poker. While Pokerstars, one of the biggest brands in the takedown, is doing quite well without USA players, Full Tilt Poker has been taken down completely.
The sweeping indictment that took place April 15th 2011 took down some of the biggest names in online poker including Pokerstars, Full Tilt, Absolute Poker and Ultimate Bet. Since then other poker rooms have followed suit and took their business out of the USA marketplace.
It just got worse as time went on and we have seen more and more casinos and poker rooms removing themselves from the USA market and going all out to make sure they stay away from the watchful eye of the Department of Justice. It's nowhere near over as far as the legislation is concerned, however, Pokerstars seem to be thriving more now than in the past.
Full Tilt Poker was not as lucky. They have completely closed down shop to all players causing speculation of money troubles and legal woes. The truth is still not completely black and white and the details are being kept private as there is some hope that another brand will purchase FT in the near future. Some of the claims against FT are quite scary but I won't go into detail until things are proven.
Absolute Poker and UB.com, both owned and operated by the same management, are still going strong as well. It will take more than a criminal indictment to bring them down as we all have seen the brand behind the group in very compromising positions in the past and they still somehow made it in the industry without affecting their bottom line.
As far as other poker rooms, there are still a few that are accepting USA players like Luvin Poker, Cake Poker and Carbon, however; there is a final blow to the industry coming very shortly. Bodog Poker is halting all business with USA players in the next few weeks and it will be interesting to see how they do without the huge USA player base.
It all boils down to making it and survival and it seems that Full Tilt just couldn't handle the pressure. Only time will tell just how much impact the industry will sustain due to the Black Friday events. For complete details keep checking back to TheCanadianGambler.com as updates will be added when they become available.
Personally, I don't think it's a huge loss. I'm not much of a poker player, but I have heard many bad things about these big online poker sites and it makes me wonder how often the games were actually fair. It seems to me that you have a better chance of a fair game by playing at smaller online poker sites.