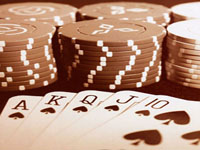 Friday, April 15th 2011, also referred to as Black Friday, was a huge day in the online poker industry. The Department of Justice and the FBI released a sweeping indictment and seized the domains of four of the biggest names in online poker – Full Tilt, PokerStars, UB and Absolute Poker. The investigation and following indictment lead to at least eleven arrests with others possibly being made soon.
The arrests were made up of the founders and payment processors that were illegally processing USA player transactions for real money bets at the sites listed. They will face criminal charges such as fraud and money laundering, amongst other charges that could still be laid, you never know with US law enforcement.
No one knows what the future may hold for the four poker rooms affected by this, but it is starting to look as if it is trickling down into some online casino decisions regarding USA players.
Rival Gaming, one of the leading online casino providers, has announced shortly after the happenings with the poker rooms, that they will no longer be accepting new USA player registrations. This is big news for all US based players as there were already a limited amount of choices for them to place their online bets. The Rival Gaming brand has not officially released a statement for players regarding this issue, however; emails were sent to a few players which they posted on numerous message boards.
It's really too soon to tell what will happen in the next few weeks regarding other USA friendly brands, and it's only speculation that other poker rooms will also be shut down. The most important thing players should remember when playing online is that there are still poker rooms and online casinos that welcome the business of American players.
In fact, Absolute Poker and UB.com have stated that they are only waiting to find more means to process transactions for USA players and business will be back to normal fairly soon. Is it wise for players to keep placing bets at these poker sites? Not really, it's likely that the government will only crackdown harder on these sites and lock accounts or seize player funds. It's probably better for USA players to find alternative poker sites to get their poker fix online, at least for the time being anyway. I apologize to any US visitors, but I don't know of any off hand.
A quick web search or a quick visit to a reputable online poker portal will assist players in finding one of these sites that weren't affected by the Black Friday ordeal. These sites will probably be safer to place real money bets than those under the watchful eye of the Department of Justice.
PokerStars and Full Tilt have taken another route and decided it best to halt all USA player transactions and game play. This may prove to be a smart move when it comes time to regulate and license online gaming operations in the USA. PokerStars and Full Tilt are the biggest names in online poker and it would be a shame to see them taken away from the USA player forever, like so many online casinos that no longer accept players from the US