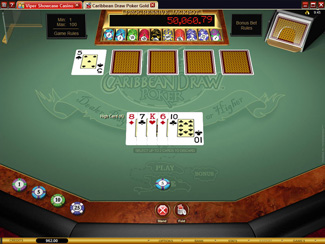 Take a spectacular game of poker, combine it with an ever-growing progressive jackpot and voila! You have the perfect game. Caribbean Draw Poker Gold Progressive is based on 5-card draw poker and is played against the dealer.
A standard deck of 52 playing cards is used and both you and the dealer receive five cards when the cards are dealt. The dealer qualifies with a pair of eights or higher.
There is an optional bonus bet, too, which is played simultaneously with the ante game. Bonus game payouts are based on the main hand dealt. Once you have received your cards, you can opt to stand, draw two additional cards or fold.
The rewards are massive and the game is astonishing. However, it only starts here!
Taking the bonus bet opens up an opportunity to play for the progressive jackpot. This jackpot you do not want to miss. If you have a Royal Flush with the first five cards dealt to you, then you will win the progressive jackpot.
If you hit a Royal Flush with your additional cards dealt, you can win on odds of 100:1. A straight rewards you with 50:1 and 4 of a kind pays out 20:1. Play with coins between 1.00 and 100.00 for maximum rewards. The realism and sophistication of Microgaming's Gold Series is brought out as you play on this large-as-life walnut burr table and become part of the excitement in the game. Enjoy Progressive Poker at its best in this table game.
Caribbean Draw Poker Gold Progressive is due to be released along with two new slots and Premier Roulette on December 7th 2010 at 32Red Casino.