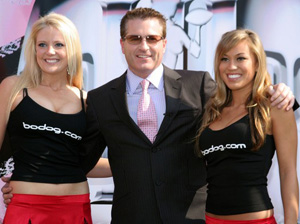 The founder of Bodog, one of the largest online gambling firms, has been indicted for operating illegal gambling business in the US that involves sports betting. Calvin Ayre has also been charged with conspiring to launder money.
For the past few years, Ayre has been able to avoid US law enforcement as he continued to offer casino games and online sports betting to residents of the United States. The sports gambling site, Bodog.com, has also been seized by the government. On Feb, 22, 2012, Ayre and three other Canadians were indicted in Maryland by a federal grand jury.
The four individuals have been accused of conducting illegal betting acts and money laundering.
Many online gamblers from the United States were being paid with funds that were moved through various accounts in Europe and Canada and more than $100 million had been sent through checks and wire payments. Despite the fact that Bodog.com was registered in Canada, the indictment against Ayre is based on the movement of funds outside of the United States, and this was enough to prosecute the billionaire.
The four accused individuals are currently facing a 5 year sentence for illegal gambling as well as 20 years for laundering money. In addition, Bodog.com faces a fine that could be as much as $500,000 for the same charges. While Ayre and his three partners are not in the US at this time, a warrant for their arrest has been issued.
Ayre is not in agreement with the charges and has released a statement saying, "I see this as abuse of the US criminal justice system for the commercial gain of large US corporations. It is clear that the online gambling industry is legal under international law and in the case of these documents it is also clear that the rule of law was not allowed to slow down a rush to try to win the war of public opinion."
The federal indictment covers business that has been conducted from June 2006 to January 2012. In addition to more than $100 million being paid to online gamblers, the Bodog site is accused of spending more than $40 million on advertising specifically targeting US players and attracting them to the site.
Since 2006, Ayre has been skirting and avoiding the laws on online gambling in the US. He was quoted in Forbes magazine, saying "Catch me if you can." After years of taunting the US government, it all comes crashing down with this indictment and the seizing of the ever popular Bodog.com site. The investigation that eventually led to this indictment was comprised of an informant that once worked for Bodog as well as law enforcement officers working undercover, making wagers on sporting events and requesting payouts from Bodog.