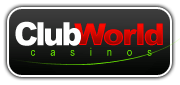 Club World Casinos is hosting another week of the best freeroll slot tournaments I have played. If you've read my Club World Casino Review, you will know how much I like these tournaments. I was even able to win the top prize at one, and I normally never come close to winning the many freerolls that I play in, but most free tournaments only give you free entry to the tournament.
Most freeroll slot tournaments at online casinos give you the option to continue playing, but you have to pay to do so. That's NOT a free tournament and they shouldn't be allowed to call them freerolls. What I love about these tournaments at Club World, is the fact that you only get one shot, and so does everybody else.
All you have to do to play in these tournaments is sign up and make a deposit at Club World Casino, then keep an eye on the Tournaments page to register for each one before the limited spots fill up. The last tournament of the week is a VIP event for players that have made 3 or more deposits at the casino during their lifetime at Club World.
This week of freeroll slot tournaments at Club World Casino is now held every month around the same time.
Winnings are not added to your account as a bonus, it is cash that you can withdraw.
All times are in Eastern Daylight Time, and registration for each regular tournament opens 12 hours before the start time. Registration for the VIP tournament is already open, so you can register as soon as you have made 3 deposits. Spots are limited, so make sure you register for each one as soon as you can after they open.
Freeroll Slot Tournament Schedule
| | | | | |
| --- | --- | --- | --- | --- |
| Date | Game | Prize | Start Time | Duration |
| August 29 | Crystal Waters | $250 | 12pm (noon) | 24 hours |
| August 30 | Goldbeard | $250 | 12pm (noon) | 24 hours |
| August 31 | Enchanted Garden | $250 | 12pm (noon) | 24 hours |
| Sept. 1 | Texan Tycoon | $250 | 12pm (noon) | 24 hours |
| Sept. 2 | Loose Caboose | $500 | 12pm (noon) | 24 hours |
| Sept. 3-4 | Triple Twister | $1,500 | 12pm (noon) | 48 hours |
Don't miss out on this rare opportunity to play in actual freeroll slot tournaments. It's so refreshing to see an online casino that understands the concept of free, and I really enjoy playing in these slot tournaments.
Depending on where you are in the world, the casino may have a slightly different name. For residents in the US, you play at Club USA Casino. There are also Club Euro, Club UK, and Club SA Casino for European, UK, and South African residents. The rest of the world, including Canada, plays at Club World Casino.