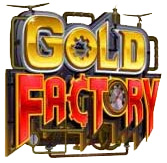 Four new slots are coming to MicroGaming online casinos in June of 2011. Gold Factory, Reel Play Poker: Jacks or Better, Power Spins: Sonic 7's, and MicroGamings first 3D slot – Sterling Silver 3D, which requires the use of 3D glasses.
For the last while, MicroGaming was releasing four new games every month. They have decided to cut that back to four new releases every quarter, in order to spend more time on creating interesting slots with new features, instead of just creating clones of other slots with different symbols. At first I was unhappy about having to wait so long for new games, since I was getting used to four new ones every month. Now that I see the new slots that they will be releasing next month, I am happy with their decision. These four new slots have some very interesting features.

Gold Factory is a 5-reel, 50-payline slot featuring wild symbols and a bonus feature with multiple levels and various rewards. The Boiler Room Bonus is triggered when three or more scatters land on the reels, you are given 4 picks out of 12 items. Find the special symbols to trigger two possible second level bonuses.
Get 50 free spins on Gold Factory at Red Flush Casino, click here to claim.
Find the Free Spins symbol to win anywhere between 10 and 35 free spins, with all wins doubled. Find the Reactor Bonus symbol to trigger that feature, where you are presented with another 12 items to pick from until you find the Malfunction symbol. Both second level features can be won if both symbols are found during the Boiler Room Bonus.
Reel Play Poker: Jacks or Better is a very interesting 5-reel, 20-payline hybrid between a video poker game and a slot machine. I can't wait to try it. The symbols are made up of a single 52 card deck and the aim is to spin in the best poker hand you can on a payline, with the jackpot of course being a royal flush. This is the first slot in what sounds like a series of Reel Play Poker slots that will be coming from MicroGaming.
Clicking on Deal Spin will give you 5 cards, each corresponding to its own reel. You can hold the cards you want and then click Draw Spin to spin the reels that are left unheld. I'm assuming the held cards will fill their corresponding reel with three of the same cards, and then random cards will spin in on the unheld reels. Definitely excited to try this game and see exactly how it works, it sounds like it could be quite entertaining.
Power Spins: Sonic 7's is a 5-reel, 9-payline slot featuring wild symbols and a new Power Spins feature. Activating the Power Spins feature will activate all paylines and cost an additional bet of 3x your line bet. While the Power Spins feature is enabled, wild symbols double your wins and add to each other if more than one is involved in the same win. For example, if two wilds are involved in a win, that win will be multiplied x4. Without the Power Spins enabled, it honestly sounds like a boring slot, with no bonus feature or free spins.
Sterling Silver 3D is the first ever 3D slot to come from MicroGaming. Get out your red and blue (or cyan) 3D glasses and enjoy this new twist on an old slot. This 5-reel, 25-payline 3D slot features wild symbols that appear on all reels but are stacked on the middle reel, and 15 free spins with all wins doubled. The wild symbols also have a random multiplier value from x2 to x10. I have played the original Sterling Silver slot quite a bit and it's always been a good slot to play, it will be interesting to see it in 3D.
See the screenshots below for a sneak peek at these four new slots (you'll need your 3D glasses to enjoy the last one), and play them at your favorite MicroGaming online casino when they are released on June 9th, 2011.