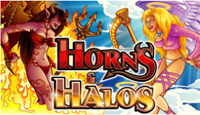 Horns and Halos is a new online slot machine by Cryptologic that is basically two slots in one, with an obvious good vs evil theme. This slot features 15 paylines on 6 reels and has a maximum fixed jackpot that will award players with 1000 coins, which could be worth as much as $20,000 with a maximum bet.
Players can only play a single coin on each payline but can increase the amount of their wager by selecting larger coin sizes, which range from $0.01 to $20.
That makes the minimum bet 15 cents per spin and the maximum bet allowed on the game $300 per spin. While this may seem unaffordable for many players, it is quite attractive to high rollers who are always looking for an exciting video slot with large betting limits.
The setup of this game is quite unique. It features a split screen where one side features the horns and has three reels. On the other side of the screen will be the halo game, also featuring three reels. Players will have to select which side of the game they wish to play and this can be changed at any time. The game has some added features that make winning more possible. With wild symbols, scatter pays and free spins, players will easily be able to earn some great payouts while playing this at Cryptologic Casinos.
Each side of the game will have its own wild symbol, which are the devil and the angel. These symbols will only appear on the middle reels and will substitute for all other symbols in the game with the exception of the scatter, which are the Heaven and Hell gate symbols. As players spin the reels, they will collect Heaven and Hell Gates. When 10 gates are collected on either side, players will be rewarded with 10 free spins. The free spin round will feature a multiplier, so it is quite possible to win a lot of money with this feature.
The game also offers players the option to use the expert mode. When this is selected, players will be able to select autoplay and they can select the number of spins that will be played automatically. The game can provide some great payouts, especially during the bonus round. I like the unique screen set up and the ability to change sides at any time.
Players should note that all Heaven and Hell gates are removed when you leave the game, that's the only thing I don't like about this slot. There are several screenshots below for you to preview the game.