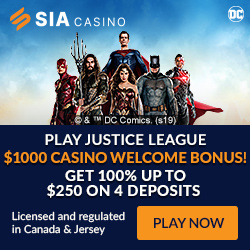 Play a free demo of Around the World here!
If you are looking for more free games, click on the Free Slots button in the menu above, or use the drop down menu to select the type of free games you would like to play.
If you run out of credits, just refresh this page and your balance will go back to where it started.
Play Around the World at Sports Interaction Casino for real money and get a $1000 welcome bonus to get started!
To play this free casino game, you just need the latest version of the Adobe Flash Player which is available for free here.
Check out the Playtech Casinos page to find an online casino where you can play Around the World to win real money.
Tip: Hold CTRL on your keyboard and scroll up on your mouse wheel to zoom in if the game below is too small on your screen.

Share this free Around the World demo with your friends!