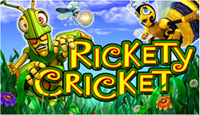 Rickety Cricket is one of my favorite Cryptologic slots, it features 25 paylines, stacked wilds, a free spins bonus, and a scatter feature.
The bonus symbols only appear on the middle three reels. When all three land during a spin, you are awarded 8 free spins with a random multiplier between x2 and x8. Free Spins can be re-triggered with an additional 8 free spins added, strangely up to a maximum of 98 free spins. I just think it's odd that there is a maximum number of free spins, and it's not even divisible by 8.
The Scatter Feature is triggered whenever the bug zapper symbol lands on the first reel and there are one or more of the queen bee, fire fly, and/or mosquito symbols on the reels. It doesn't matter if the symbols don't match, they all get zapped just the same, and the more that get zapped, the more cash you are awarded.
This is one of my favorite slots because it has stacked wilds, and free spins seem to happen fairly often. Maybe that's why there is a limit on the number of free spins you can get with re-triggers, the odds of hitting three bonus symbols must be fairly high based on the reel layout. I still find it quite odd that they limit it to 98 though.
See the screenshots below for paytable information, and play this slot today at these Cryptologic Casinos.