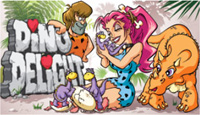 Dino Delight is a 5-reel slot found at Cryptologic casinos, featuring 25 paylines, wild symbols, and a bonus feature that awards either free spins or cash prizes.
The bonus feature is triggered when thee or more baby dinosaur scatter symbols land on the reels during a spin. You are taken to a screen with 6 eggs, and you click on them one at a time until you find three matching dinosaurs. Each dinosaur either has a cash prize or free games, and if you find the golden dinosaur, it acts as a wild and triples all prizes won in the bonus.
If you match three Free Games dinosaurs during the bonus feature, you are awarded free spins with all wins doubled. If you find a golden dinosaur and two Free Games dinosaurs, all wins during free spins are multiplied by 6. It doesn't say in the paytable how many free spins you can win, I only remember getting 10 free spins each time.
There is also a side-bet that you can enable if you want to. When enabled the dinosaur in the background flips a coin on each spin, it will either land with a dinosaur head or tail facing you, and you win if it lands on the side you selected. Using the controls on the right side of the reels, you can select heads or tails and adjust the bet size up or down, but it can't exceed your spin bet. There is also a history of the last five symbols in the upper left side of the screen.
See the screenshots below for paytable information. Play Dino Delight today at a Cryptologic Online Casino.