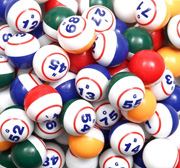 Online bingo is getting more popular all the time, and many online casinos are now adding a separate section dedicated to bingo to satisfy today's online gambler.
I actually enjoy playing bingo online more than I do at a bingo hall, the games move along faster and new games start much sooner after a bingo is called. Maybe I'm just impatient, but why wait when you don't have to?
Like the casinos on this website, all of the bingo sites listed below are safe to play at. In fact, many of these bingo sites are connected to the online casinos on this site. It used to be tough finding a reputable online bingo site, but that has changed recently.
Enjoy playing online bingo at the trusted sites below.