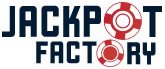 The Jackpot Factory group has a portfolio including 4 online casinos.
They used to also have a poker site, a sports betting site, and a bingo site, but decided to just concentrate on their casinos. I've played at a couple of their online casinos and their bingo site before they got rid of it.
The customer service was great, but it did take a while for live chat to respond the few times that I tried. Other than that, I have nothing bad to say about this group. They have been around for a long time, since 1999, and you rarely see any complaints about them.
Below is a list of all the Microgaming casinos owned by the Jackpot Factory group, along with the sign-up bonus information for each one. Be sure to read the terms and conditions for each bonus before deciding to claim it.

Share this information about Jackpot Factory with your friends!