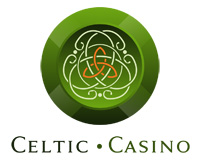 Celtic Casino offers live dealers in a studio set up just for that purpose. Live casinos of this type allow for more interaction with the dealers since they aren't distracted by the players in a casino. They will often say hi when you join the table, you can chat with them and tip them as well, which they often thank you for.
The live casino games available at Celtic Casino are live baccarat, live roulette, and live blackjack. They also offer several slots, video poker, table games, and more RNG (Random Number Generator) games. All of these games are played within your favorite web browser, with no need to download anything. Like most other live casinos, the emphasis is on the live games, but the slots are actually quite good. They have nice graphics that look great full screen.
Sign up today and get 50% cash back on your first deposit.