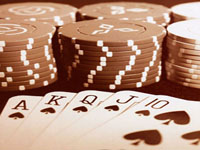 Online Poker is very popular, though I have yet to really give it much of a shot. I'm not going to pretend to be a poker pro that will give you all the winning tips and strategies, but I can suggest some of the best places to play poker online.
The poker sites below are well known to be safe to play at and have been around for years with very little or no complaints. Some of these sites are also connected to the online casinos on this website which are also highly trusted.
All of these sites are Canadian friendly, and many offer live dealers!