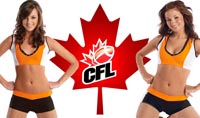 Add even more excitement to the weekend and bet on the 2010 Grey Cup game between the Saskatchewan Roughriders and Montreal Alouettes.
This is a rematch of last year where the Alouettes beat the Riders due to a major blunder on the last play, the Riders had too many men on the field. This was of course made into a big joke since the "13th Man" (Riders home crowd) was always a great asset to the team and that phrase was used many times when the Roughriders were the topic of discussion.
Montreal and Saskatchewan met twice in the regular season, both games were very exciting and very close, needing overtime to decide the winner of each game. The first matchup ended with the Riders winning 54-51 in overtime, and the second game saw the Alouettes win 30-26 in double overtime.
Saskatchewan ended the season with a record of 10-8, while Montreal ended it with a better 12-6 record. The Riders looked rough heading to the playoffs and many thought they wouldn't make it this far, but they managed to beat BC and Calgary to get them to the Grey Cup where hopefully they will get revenge for the loss last year.
Many feel the Alouettes are the favorite heading into this Grey Cup rematch, but I'm picking the Roughriders to edge them out in another close game that may even need overtime to decide the winner again. They could have won it last year, and I don't think they'll be making the same mistake again.
Update: Well I was right about it being a close game, but Montreal got the win 21-18 after a bad play by Darian Durant, the Saskatchewan quarterback, with under a minute left in the 4th quarter. He was almost sacked after having plenty of time to get rid of it, made a poor throw in an attempt to get it out of bounds, it was intercepted and the game was over.