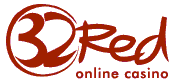 32Red may be adding Instadebit as a deposit and withdrawal method for Canadians!
I have been in contact with a representative of 32Red and they are seriously considering adding it as a banking option for their online casino. They have contacted Instadebit and received the required information. They are now looking everything over and a decision will be made soon.
Update May 23rd, 2011: This is my first update since I wrote this in September last year because I was hoping to update it when Instadebit was available at 32Red. I should have just updated it when I was told they would be adding it, but they didn't expect it to take very long.
The casino has been attempting to integrate the payment method into their system but have run into some issues. I was first told they were hoping to have it done by Christmas, but that's when they ran into the problems. Since then they have been keeping me updated as they test and attempt to integrate it.
The reason they are having issues is because their cashier software is not the same as most MicroGaming casinos use, they use their own system in order to pay players faster than the rest. They have been the fastest paying MicroGaming casino for quite a while now. They also need MicroGaming to add it to their software so that it will work with future updates, like when new games come out.
Stay tuned for further updates, hopefully they get it working soon!
Update May 28th, 2011: Go figure, less than a week after I finally updated this page, I am very happy to announce that 32Red Casino now has Instadebit as a deposit and withdrawal option for Canadian players!