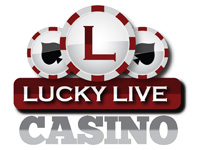 This press release from Lucky Live Casino heralds the advent of "Crazy Mondays", a weekly promotion providing great opportunities for players to win weekly prizes.
Any player participating online in any game on a Crazy Monday on the casino's website, receives a raffle ticket each time he plays €100. Therefore, the more times they play €100, the more opportunities they have of taking home a prize. There is only one prize per week.
Lucky Live Casino is a world leader in live casino entertainment, they enable you to play at the Fitzwilliam Card Club and Casino in Dublin, Ireland from home.
Streamed online from the Fitzwilliam Casino in Dublin, the Technology of Distance Gaming from VueTec Software helps to webcast the live games, in concurrent time to all the members of the Casino. A computer does not generate these games, which involve live action in the Fitzwilliam Casino. Imagine sitting in your own home, and comfortably playing online at the lively, bustling tables of the Fitzwilliam Casino and taking part in live dealer games with real-time buxom beauties, or participating in virtual games, and experiencing the incredible ambiance of playing in a live brick and mortar casino. What an incredible experience!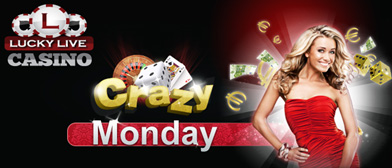 A player holding a raffle ticket issued by this Casino will be eligible for free bonus money to play at the tables of Fitzwilliam casino with the buxom live dealers or receive gifts like iPads, free bonus etc. Only one winner will emerge per week. This new promotion gives every player a chance to win a special gift each week on Mondays, and the opportunity to play against live dealers in baccarat (Punta Blanco), roulette and blackjack (early payout option) and Texas Hold'em Bonus Poker, not to mention all of the slot games.
The casino will announce the winner on its Facebook page, via Twitter, and on their winners page. Everyone knows that after the weekend, Mondays are hectic, and everybody is busy. Introducing Crazy Mondays, an excellent incentive for people to play at the casino on Mondays, which is normally an empty day at any casino.
This Casinos dedication to live casino entertainment is legendary and offers their members a wide array of internationally acceptable payment and deposit options like Moneybookers, Neteller, PaySafeCard, Visa, MasterCard, Delta Card and the like. They ensure Client Security by using security systems like, 128-bit encryption, VeriSign security, and Technical systems testing for random number checking. These measures give the client a sense of security and comfort in dealing with the casino.
VueTec Limited owns this Casino and operates it in conjunction with the Palace Casino located in the Isle of Man and the Fitzwilliam Casino in Dublin, Ireland. The Casino comes under the gambling jurisdiction of the Isle of Man.